Artist's statement
After many years of writing about, and curating contemporary art, the desire to return to studio practice became irresistible. I was accepted onto the post-graduate, one-year drawing programme at the Royal Drawing School (2006-07), a year which enabled me to rediscover the routines and rhythms of studio life: of materials, processes, different temporalities – time for error, correction and the slow cycle of art-making. In a previous life as an artist post-college, my work was predominantly object-based, although drawing always figured prominently in the evolution from idea to realisation. Now, however, I wanted to paint. Drawing has been an accompaniment to research and everyday life, from diaristic notation and  travelogue (recording the urban and natural environment) to imaginatively conceptualising a curatorial project. Mark-making as a way of seeing and thinking – of finding a visual semiotic for encounters with the world and the complexity of perceptual experience, evidenced in lines, signs, traces (and tracings), erasure… The blankness of paper prior to the first inscription, the pencil moving across a surface, lines 'taking a walk' – mistakes partly erased leaving the memory of a cancellation/ a change of mind – rubber and graphite in a complex dialogue. No accident that the return to practice was co-incidental with writing on Cy Twombly, the interplay between text and image, text as image…
Initially studio practice focused upon an investigation into the pattern and trace of momentary perception: the play of light across a surface or through glass; the movement of water driven by current and weather, the texture of rock and the signs of geological formation – mountain, valley, contour and topology. Work develops in series, either tending towards formal relationships and abstraction, or to the challenge of subverting the overly-familiar. Landscape as a mental and physical cartography of the material world: the surface of lived and located experience of place.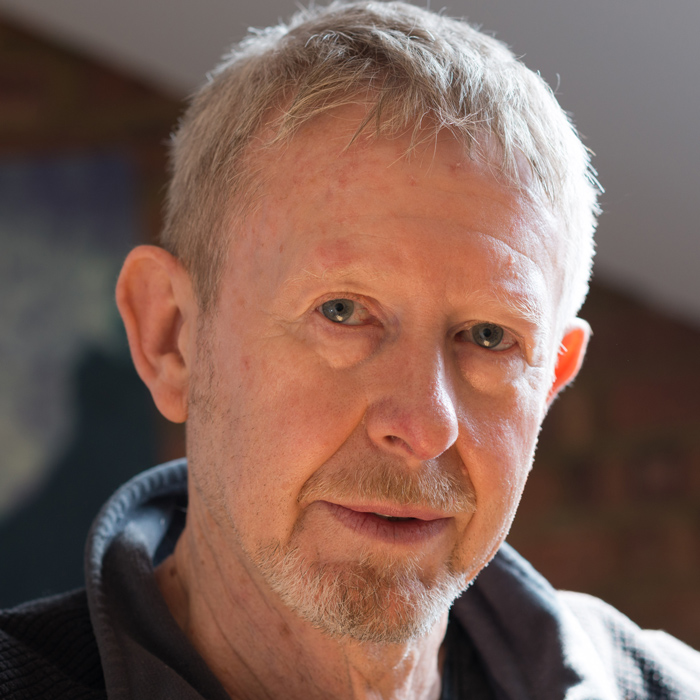 Jon Bird – CV in brief
Artist, writer, curator and academic.
Born 1945, Kent. Lives and works in London.

Undergraduate training in Fine Art (Sculpture) at Central School of Art, post-graduate studies at Chelsea School of Art (MA Sculpture).
Young Contemporaries prize-winner.
Ten-year period of group and solo exhibitions including:
1967  Artists International Association, London
1969  University of Warwick
1970  Somethings, Museum of Modern Art, Oxford (two-person)
1971  Serpentine Gallery, London (four-person)
1972  A Survey of the Avant-garde in Britain, Hayward Gallery and Gallery House, London
1974  Artists Bookworks, British Council Travelling Exhibition
1976  Artists Books, ICA, London
1977  Radical Attitudes Towards the Gallery, Art Net, London

Studio practice discontinued (except drawing) for three decades: research (Doctoral Studies, UCL 1974-78); teaching, writing, publishing and curating.
1982- present: Middlesex University (formerly Polytechnic). Since 1997, Professor of Art and Critical Theory, School of Art and Design. 1993-1999: Visiting Tutor, Royal College of Art, Visual Arts Administration/Curating. 1997-2001: Tutor in Theory, Jan van Eyck Akademie, Maastricht.

First major curatorial project was the Nancy Spero retrospective, ICA, London, that travelled to Fruitmarket Gallery, Edinburgh and Orchard Gallery, Derry, Northern Ireland. Other curatorial projects include: Massimo Vitali at the Photographers Gallery, London; Leon Golub retrospective, Irish Museum of Modern Art, Dublin, that travelled to South London Gallery, Albright-Knox Museum, Buffalo, NY and Brooklyn Museum (2000-2001); OTHERWORLDS: Nancy Spero and Kiki Smith, Baltic, Gateshead (2003-2004); Gradiva: William Cobbing, Freud Museum and Camden Arts Centre, London (2007); Leon Golub retrospective, Reina Sofia Museum, Madrid; Leon Golub POWERPLAY: The Political Portraits, National Portrait Gallery, London; Leon Golub, Hauser & Wirth, London (2016).

Since 1980: writing extensively on contemporary art and visual culture for journals, magazines, catalogues and books.

2006-2007: returned to studio practice. Post-graduate on the Drawing Year, Royal Drawing School (Prizewinner), London. Since then, work included in various group exhibitions and two, two-person exhibitions (2011, 2014), at the Sideshow Gallery, Williamsburg, New York.